Start 16. MKS im. H. Wieniawskiego już za tydzień!
The start of the 16th H. Wieniawski International Violin Competition is just one week away!
2022-09-29 11:49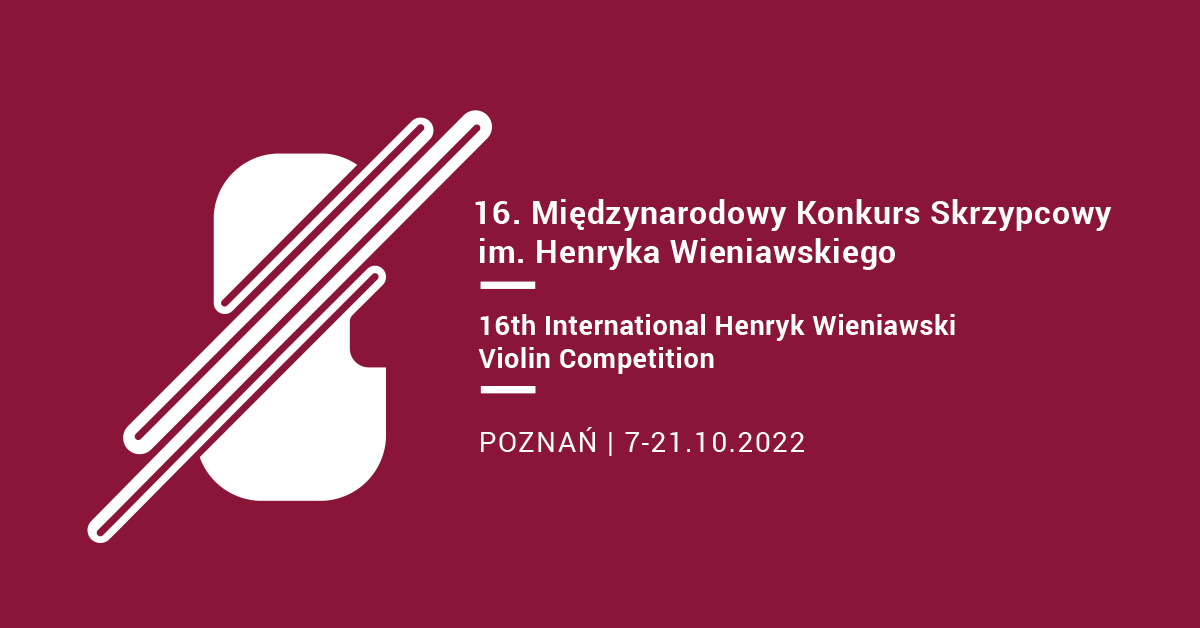 Już tylko siedem dni dzieli nas od rozpoczęcia 16. Międzynarodowego Konkursu Skrzypcowego im. Henryka Wieniawskiego! Na tegoroczną edycję wydarzenia, z powodu pandemii, czekaliśmy aż sześć lat, a nie – jak zazwyczaj – pięć. "Przed nami dwa tygodnie wielkich muzycznych emocji. Cieszymy się na spotkanie z naszymi gośćmi: uczestnikami, jurorami i słuchaczami" – mówi Dyrektor Konkursu, Karolina Kaźmierczak.

Co wydarzy się pierwszego dnia Konkursu?

7. października, g. 15:00 to ważny moment dla uczestników Konkursu. Rozpocznie się wtedy losowanie kolejności ich występów. Dowiemy się, kto jako pierwszy wystąpi przed międzynarodowym jury i słuchaczami.

O g. 19:00 ze sceny Auli Uniwersyteckiej Adama Mickiewicza zabrzmi koncert inauguracyjny, podczas którego wystąpi Veriko Tchumburidze, laureatka I nagrody 15. Konkursu razem z Orkiestrą Filharmonii Narodowej pod dyrekcją Andrzeja Boreyki.

Śledź Konkurs z każdego miejsca na świecie

Wszystkie konkursowe wydarzenia będzie można oglądać na kanale YouTube @Wieniawski Society. Zeszła edycja Konkursu przyciągnęła przed ekrany ponad milion internautów z 120 krajów świata.

Wybrane przesłuchania i koncerty zostaną wyemitowane na antenach Programu Drugiego Polskiego Radia i TVP Kultura. Przebieg konkursu będą na bieżąco komentować dziennikarze codziennej gazety konkursowej, wydawanej przy współpracy z Polskim Wydawnictwem Muzycznym.

Współtwórz najstarszy istniejący konkurs skrzypcowy na świecie

Tylko do końca dnia czekamy na zgłoszenia do zespołu wolontariuszy! Szukamy osób, które żadnej pracy się nie boją; które wniosą dużo pozytywnej energii i pomysłów do konkursowej codzienności. W zamian przekonają się, jak wygląda Konkurs zza kulis, poznają artystów z całego świata i wezmą udział w wybranych przesłuchaniach. Po zakończeniu współpracy każdy z wolontariuszy otrzyma zaświadczenie wystawione przez Towarzystwo Muzyczne im. Henryka Wieniawskiego w Poznaniu. Zgłoszeń można dokonywać pod linkiem bit.ly/WieniawskiVolunteerForm.
We' re only seven days away from the start of the 16th Henryk Wieniawski International Violin Competition! It has been a long six-year wait for this year's edition of the event, instead of the usual five, due to the pandemic. " We have two weeks of immense musical emotion ahead of us. We look forward to meeting our guests: the participants, jurors and audience," says Competition Manager Karolina Kaźmierczak.

What does the first day of the Competition have in store?

October 7, 3:00 pm is an important moment for the participants of the Competition, as then the drawing of the order of their performances will begin, and we will find out who will be the first to perform in front of the international jury and the audience.

At 7:00 pm, the opening concert will sound from the stage of the Adam Mickiewicz University Auditorium, during which Veriko Tchumburidze, winner of the First Prize of the 15th Competition, will perform together with the Warsaw Philharmonic Orchestra conducted by Andrzej Boreyko.

Follow the Competition from anywhere in the world

All of the competition events will be available to watch on the @Wieniawski Society YouTube channel. The previous edition of the Competition attracted more than one million online viewers from 120 countries around the world.
Selected auditions and concerts will be broadcast on Polish Radio Program II and TVP Kultura. The course of the competition will be covered on an ongoing basis by journalists of the daily competition newspaper, published in cooperation with Polskie Wydawnictwo Muzyczne.

Make your mark on the oldest existing violin competition in the world

You have only until the end of the day to apply to join our volunteer team! We are looking for people for whom no task is too daunting; who will bring ample positive energy and ideas to the competition's daily routine. In return, they will see what the Competition looks like behind the scenes, meet artists from all over the world and take part in selected auditions. And once the competition dust settles, each volunteer will receive a certificate issued by the Henryk Wieniawski Musical Society in Poznan. Applications can be submitted at bit.ly/WieniawskiVolunteerForm.